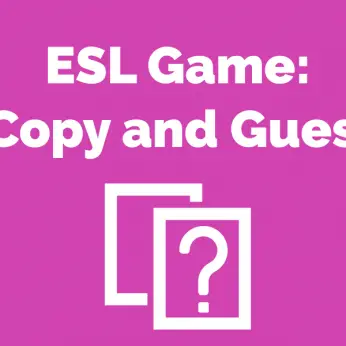 Copy and Guess is a great game which will enhance the communication ability of your students. In this activity, students guess the meaning of a phrasal verb from context. This game is a great way to practice phrasal verbs and is sure to keep students entertained.  Activity time: 20 minutes Materials required: flashcards (with phrasal […]
http://www.youtube.com/watch?v=atfgHh7xS4Q
[spacer_small]
"Preposition Practice" is a great simple ESL game to practice prepositions of place with young learners. It's a fun and interactive way to study prepositions of place that's sure to be enjoyed by the whole class.  [spacer_small]
Activity Time: 10 mins +
Materials required: flashcards.
Skills practiced: Vocabulary, writing and prepositions of place.
Level: Young learners
[spacer_small]
Method
1. Choose a number of flashcards you want your students to revise. Hide them in different locations around the classroom.
[spacer_small]
2. Tell your students they need a pencil and paper. Tell them you have hidden X amount of flashcards in the room and they need to find them and write down their location on their piece of paper.
[spacer_small]
3. The first student to find all the flashcards and write their location is the winner.
http://www.youtube.com/watch?v=atfgHh7xS4Q [spacer_small] Can't see the video click here. [spacer_small] "Preposition Practice" is a great simple ESL game to practice prepositions of place with young learners. It's a fun and interactive way to study prepositions of place that's sure to be enjoyed by the whole class.  [spacer_small] Activity Time: 10 mins + Materials required: flashcards. Skills practiced: Vocabulary, writing and prepositions of […]
---