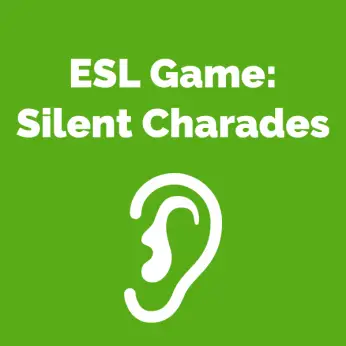 Sound Charades is a super fun game for young learners but could be also used with other levels. This version of charades is played the same as the original but in this version you can only make sounds. Students can either write their own or used the prepared cards. A student from the class selects […]
Blankety Blank  is a simple end of class speaking activity for teens and adults. This activity works well with intermediate and above levels. In this game students have to guess a word that finishes a sentence and try to have the same answer as other students in the class. If they guess the same word […]
Leave The Room is a great game to use in class to practice classroom vocabulary, prepositions and question forming. In this game, a student waits outside the classroom for 1 minute as the other students change the position of some objects. The student then enters that classroom again and has to guess what has been moved. This is a game your young learners will love playing.
1. Choose a student who will stand outside the class for under one minute. (make sure the student can be seen by another adult!)
2. When the student leaves the room, the other students move up to ten objects e.g books, chair, desk etc.
3. When the student who is outside returns, they try and guess what objects have been moved. Encourage them to ask questions e.g "Has the chair been moved?"
Leave The Room is a great game to use in class to practice classroom vocabulary, prepositions and question forming. In this game, a student waits outside the classroom for 1 minute as the other students change the position of some objects. The student then enters that classroom again and has to guess what has been […]
---