ESL Game: Connect Four Word Formation
Connect Four Word Formation
is a great game for students studying for Cambridge exams such as FCE, CAE and CPE. In this activity, students look at the root of a word and have to turn the word into a noun, verb, adjective or adverb. The first team to get four squares in a row are the winners.
Aim:
Practice word-formation with students
Level:
Teens and adults (Lower intermediate +)
Time:
10 – 15 minutes
Method
Project, print or write the root words on the board in a table. See the printable below for examples.

Put students in teams. You can have two or more teams playing at the same time.

The first team selects a word from the board and they must change the word into the correct form (e.g a noun if students are practicing noun formation.)

The next team then takes their turn. The first team to connect four (horizontally, vertically or diagonally) are the winners.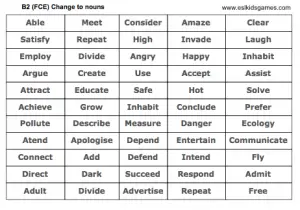 Find more games and activities on our YouTube Channel
---