ESL Christmas Charades is a fun and simple no-prep activity for teens and adults on the topic of Christmas. This simple game is a great way to revise Christmas vocabulary and have a little fun while doing it. This game is best suited for adults and teens with a level of intermediate and above.
Method


To play, first you need to print and cut out a copy of the printable activity cards.


Put students into groups of 3/4 depending on your class size.


Students, take turns picking a card and acting it out. The other students in their group have to try and guess what the student is acting out. The student acting out the word should not say anything. They can however indicate:


Number of words in the title:
Hold up the number of fingers.
Which word you're working on:
Hold up the number of fingers again.
Number of syllables in the word:
Lay the number of fingers on your arm.
Which syllable you're working on:
Lay the number of fingers on your arm again.
Length of word:
Make a "little" or "big" sign as if you were measuring a fish.
"The entire concept:"
sweep your arms through the air.
"On the nose"
(i.e., someone has made a correct guess): point at your nose with one hand, while pointing at the person with your other hand.
"Sounds like":
Cup one hand behind an ear.
"Longer version of :"
Pretend to stretch a piece of elastic.
"Shorter version of:"
Do a "karate chop" with your hand
"Plural":
link your little fingers.
"Past tense":
wave your hand over your shoulder toward your back.
A letter of the alphabet:
move your hand in a chopping motion toward your arm (near the top of your forearm if the letter is near the beginning of the alphabet, and near the bottom of your arm if the letter is near the end of the alphabet)
3.  Continue until either one group wins or time runs out
4. Enjoy and have fun!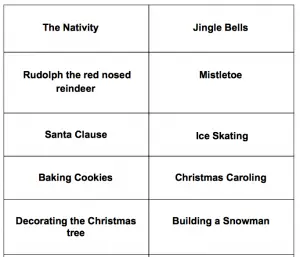 Updated: December 20 2022
More Christmas activities
Discover more Christmas activities for kids, teens and adults.
Christmas Spot the Difference
– Practice Christmas vocabulary with this fun interactive online game.
Christmas Worksheets and Printables
– Christmas worksheets and Printables that can be used in classroom to reinforce vocabulary, practice problem solving and bring some festive cheer.
ESL Christmas Quiz
– This great no-prep Christmas quiz is great for teens and adults and covers Christmas cultural knowledge, vocabulary, Christmas music.
4 ESL Christmas Activities
– This huge Christmas post includes speaking, vocabulary and a video lesson. This is suited for Young learners and teens and even adults.
Christmas Tongue Twisters
– Tongue Twisters is a fun activity for young learners or even teens to practice pronunciation. Great as a warmer or cooler for your Christmas lesson plan.
Christmas Story Recall
– In this activity, students watch/listen to a short Christmas story and then they try and rewrite/tell the story later.
Just a minute Christmas Challenge
– In this activity students need to speak about a Christmas photo for one minute. This activity is great for teens and adults who are preparing for the B1 Exam (PET).
ESL Christmas Debate
– In this activity, students have a debate on different statements related to Christmas. This activity is great for teens and adults with a higher level.
Find more games and activities on our YouTube Channel
---